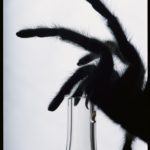 Spider Pharm provides a constantly changing assortment of spider, scorpion and centipede venoms for discovery and research, through a combination of collecting, in-house breeding and propagation and purchases from other collectors, breeders, dealers and importers.
Most of our work is orientated towards discovery and research. For instance, a researcher might be looking for a novel probe of a specific channel or receptor or, possibly, variations of known toxins with different  properties. Depending on what the customer wants to explore and quantities needed, we might a assemble and provide a collection  one or several dozen venoms for evaluation.
This may be followed by some additional samples of selected venoms, which may have showed promising acitivity, as well as scaled up production of one or a few venoms to meet requirements.